Straight Shootin'
Never Highfalutin
Find our taps and 6-packs near you.
Way out in West Texas, beer is different
See, after a long day of hard work, you need a beer that matches your lifestyle. Red Gap is made for true pioneers lookin' to bring the community together for a round of beers. So, bring your buds, ready your glasses – Red Gap's brewin'.

I used to think I hated craft beer. Then I visited Red Gap and, wow! Red Gap beer reminds me of memories I made years ago and helps me make new memories.

KK Noel

Taproom Visitor
RedGap beer hits the mark every time. We have multiple Red Gap beers on tap. Our beer fans love it. Actually, even people who don't like beer, love Red Gap.

Micah

Pioneer Tap house
Never before have I cared about craft beer until I found Red Gap. As a cook, I appreciate the nuance of carefully created flavors and Red Gap helps me create memorable meals. I enjoy Red Gap so much, I find new recipes to cook with it.

Tina

local Chef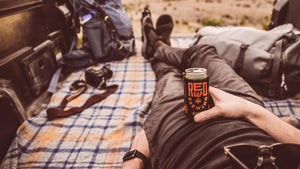 Red Gap Was Built
For Community
Family-owned and operated. Small town born, bred and brewed.
Represent Red Gap Brewing